Testing on the Old Telegraph Track
Cape York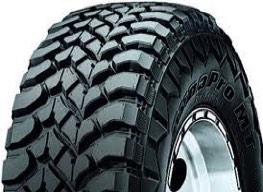 Option 2:
Hankook Dynapro MT's 124Q - 1600KG @160KPH
If you travel more on the highway and the GVM is under 5000Kg then this is a good choice.
I am on my 3rd set, and without the use of spares the average usage has been 58,000Kms. My next set will be TrackMaster !
The terrain covered, included high speed highway driving, many gravel roads, muddy tracks and sandy cross country driving, in all 146,000Kms.
These tyres also won the American Tyre Shootout:
See: 4Wheeler Tyre Test
I have had them tested under SAE J328 at 1700Kg x 2.25 = 3,825Kg
That's impressive.
Our fully loaded vehicle averages between 5000 and 5500Kg and I run the Hankooks at 46psi on road, dirt tracks 36 psi, sand tracks 30 psi and very soft sand down to 20psi
On-road, the noise level is much less than the other options yet they are great off-road, giving good positive direction and feel.
Airing down for sand driving gives a massive foot print.
IDEAL GVM 4000 to 5000Kg
AUD$ 415 each incl GST
( Export price AUD 377 each)
Fitting of tyres to Rim & Balancing is $30 including 2 valve stems
I do not have a workshop hence do not fit wheels to vehicles
FINALLY...after 3 years
TRACKMASTER 37 x 12.5 R17 131N ( 1950KG load capacity)
A tyre Designed, Developed and Tested in Australia for Australian Conditions. Specifically manufactured for the Fuso, Isuzu, Hino and Iveco Light Trucks with a GVM of up 7,000Kg.
Now Available AUD$ 480 each incl GST ( Export price AUD 436 each)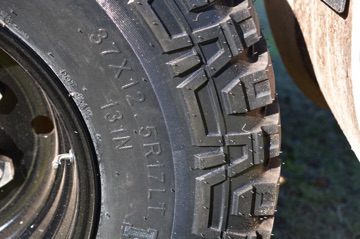 Unlike other tyres, this tyre is in a class of it's own.
In fact the ONLY 12.5 R17 at this load capacity globally.
A high load rating, a massive 17mm thick tread with and an even more impressive 8mm aggressive side wall protection layer.
MAXIMUM GVM 7000Kg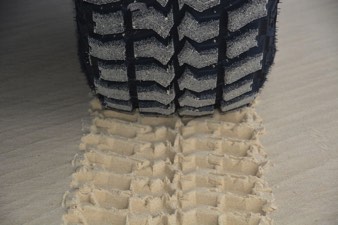 Brake testing for the 17x9" Super Single compliance for the Fuso FG84 using the TrackMaster 37x12.5 R17's.
We now have compliance available for the following vehicles;
FUSO CANTER 4x4 FG84 Under 4500Kg and 6000Kg
FUSO CANTER 4X4 FGB71 Under 4500Kg and 6000Kg
ISUZU 4x4 NPS 250/300 to 6500Kg.
Currently under testing is the Hino 817 4x4 @ 6800Kg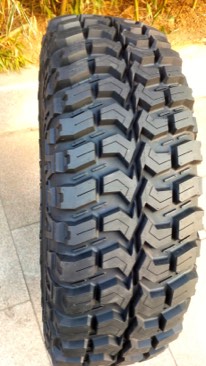 All Fuso, Isuzu and Iveco GoannaTracks rims have been SAE J328 tested to 1950Kg to match the load capacity of TrackMaster.
Other similar tyres in this load capacity are 13.5" wide, meaning on a 17x9" rim the side wall is pushed out exposing it to potential damage. This wider track also requires more effort to turn reducing engine performance. Thus a 37x12.5 R17 tyre on a 17x9" rim is the ideal combination.