17x9" Steel Rims fitted and balanced with TRACKMASTER 37x12.5R17 131N (1950Kg @140Kph)
$1050 each incl gst ( Export Price A$995 each)
Set of 5 - $5,250
Set of 6 - $6,300
The TrackMaster Tyre has been specifically developed for light 4x4 trucks. High load carrying capacity, tough 10 ply rating and think 8mm side biters providing great side wall protection.
For more information click here
Super Single Wheels for the Mitsubishi Fuso FG84 - GVM up to 6,000Kg
These wheels are manufactured specifically for this vehicle and align the front and rear exactly for easier and safer driving in sand, mud and snow.
The front wheel is mounted face plate out and the rear face plate in, so only one spare is needed.
Two valve stems are fitted allowing easy access to adjust tyre pressure on the front or the rear.
Super Single Wheels for the Mitsubishi Fuso FG84 - GVM up to 5,500Kg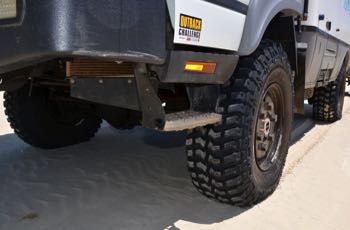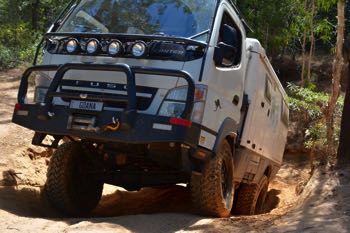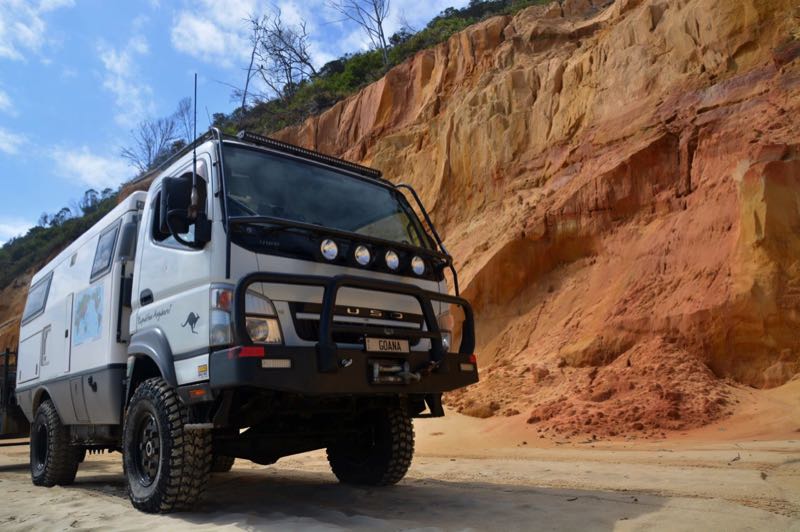 17x9" Steel Rims fitted and balanced with Hankook Dynapro 37x12.5 R17 124Q ( 1600Kg@160KPH)
$990 each incl gst ( Export Price A$900 each)
Set of 5 - $4,950
Set of 6 - $5,940
For details on Hankook Dynapro Tyres click here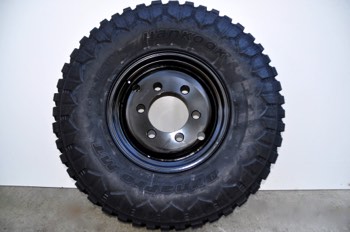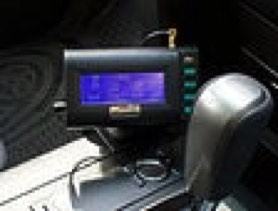 As one builds a vehicle for personal use you develop and find products to suit the needs for serious remote travelling
Some are discovered to ideally suit the purpose, others are made, remade, changed, modified and finally perfected. These products are a result of all the above
Sensa Tyre TPMS - Tyre Pressure Monitoring System
The TPMS product is specifically designed for 4 wheel drive applications where ruggedness and durability in harsh environments and conditions are paramount.
In addition 4WD tyres often require their pressures to be adjusted to suite the terrain, once the tyre pressures have been lowered it is a simple matter of pressing the reset button to set the new monitoring level.
These products are designed for applications where the vehicle's cold tyre pressure ranges from 0 psi to 180psi. The 5 and 6 sensor kits include extra sensors for spare tyres (note: the system will monitor up to 12 tyres at a time).
I have used these for the last 4 years and find them brilliant.
TPMS WTPH-15 Tyre Pressure Monitoring System for 5 wheels Working Range from 0 to 180Psi
$ 550 incl GST (Export A$500) INCLUDING FREE FITTING
TPMS WTPH-01 Tyre Pressure Monitoring System for 6 wheels Working Range from 0 to 180Psi
$ 638 incl GST ( Export A$580) INCLUDING FREE FITTING
TPMS WPS-SM Extra Wheel Transmitter and S/Steel Strap for the above
Upgradable to 14 transmitters
$ 80 incl GST ( Export A$72)
Mitsubishi Fuso Canter 4x4 - FG84 Wheel Flairs
Replacing the OEM wheel flares, and using the same bolt holes. The wider wheel flair eliminates mud build up the doors.
The new flair is 65mm out from the cabin door skin.
$ 330 Pair incl GST ( Export price AUD$300 each)
Available in Gloss Black
FG84 Winch Compatible Bull Bar
Designed specifically for the Canter 4x4.
Manufactured from high tensile, structural grade alloys providing the utmost in frontal protection for vehicle and passengers. By utilising a specially designed mounting system, the Big Tube ™ Bull-bar Winch Bar is also fully compatible with the cabin tilting system. The Big Tube ™ Bull-bar Winch Bar mount is rated to support up to a 15,000 lbs capable winch. All ECB products are ADR compliant, air bag compliant and feature the ECB Lifetime Warranty, for the ultimate peace of mind.
Our Price $ 2,300 Our Price Fitted $ 2,600
All prices include GST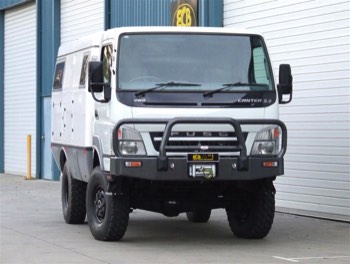 FG84 Stratos Suspension Seats
The Stratos 3000 LTSS seat utilises all of the 3000 Compact features with the addition of the new Stratos LTSS suspension system.
Proven to considerably reduce vibration transmission to the occupant by up to 70%.
The LTSS suspension system provides both drivers and passenger with increased comfort and support in even the toughest four wheel drive conditions.
Our Price $ 2,350 for the Driver or Passenger seat ( unfitted)
All prices include GST
Freight Costs
5 or 6 wheels fit onto a standard pallet and can be road freighted throughout Australia, generally within 1 week of order.
We have also Sea Freighted many units internationally

Fitment to the FG84:
The Fuso rims have two valve holes allowing easy access to adjust tyre pressure when mounted face out (front) or reversed (rear). A normal straight fitting rubber valve on the outside and a 90-degree Stainless Steel valve stem on the inner side allows this to clear the internal front brake hub.
Removal of dual wheels and fitment of Super Singles may or may not be road legal and fitment of them is at the owner's discretion. See Compliance above.
These rims are structurally sound, and apart from the independent load tests detailed in the Technical Section, I have driven over 200,00Kms across the Gobi Deserts (sand), Alaskan Ice roads (rocks), and the notorious Brazilian BR319 through the back end of the Amazon (mud), and now across Africia, all without issues. Average Hankook tyre life has been 60,000Kms without the use of a spare. My vehicle weights an average of 5000Kg.
Vehicle fitment requires a set of front wheel nuts to be used on the rear wheels.
These would be available from Fuso.
We have these available as a kit for a set of 6 Left and 6 Right for $144 incl GST
Fitment to the rear axle.
1. Remove the outer nuts, then the first dual wheel.
2. Remove the cover stud ( with the square end), then the inner wheel.
3. What remains are the rear wheel studs.
4. These are the same size (but not necessarily the part number) as the front wheel studs.
5. You will need a set front wheel nuts to mount the rear wheels.
Vehicle modifications that I am aware of:
Should the springs have sagged and almost on the bump stop, then consider a spring upgrade.
I recommend Suspension Supplies Australia (SSA) who do a great kit at a very affordable calculation.
Call 1800 630 411 They can also explain why not to go with parabolic.
The front left entry steps may need knocking forward as the left wheel may touch when cornering. A knock with a sledgehammer will move it forward 30mm which is enough to clear the 37" wheel.
The wheel flare will either need removing, cutting back at the front or add a wider flair. Rubber ones are available from auto shops. See accessories for our fibreglass wheel flair above.
When tilting the cab, the wheels may need to be turned full lock left if you have standard springs or straight with after market springs.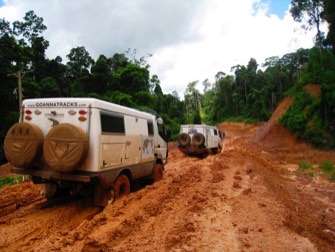 200,000+ Kms of Real World Testing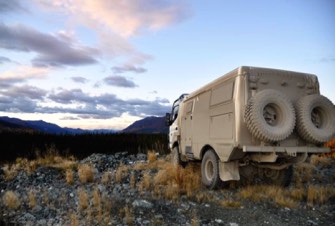 Across the Gobi Desert, Mongolia
On Tracks over the Andies Mountains
On Road Compliance for the Mitsubishi Fuso FG84
Should you require Australian on-road compliance for our Super Singles, this is now available.
Cost $625.00 + Local inspection, and 'Blue Plate' by a qualified engineer.
You can download all the information here:
And the Application Form here:
The application approval process can take a number of months from Canberra or the local authorities to process, hence payment is due only once the application for your particular vehicle is approved.
Accessories for the Mitsubishi Fuso FG84